Why PTC acquired ThingWorx and how M2M will change everything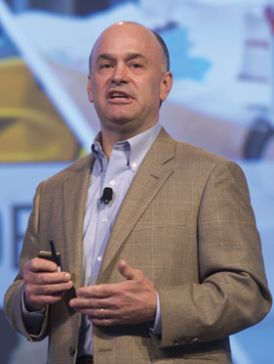 Bildtext:
PLM today isnt just about CAx, PDM and tools for collaboration. Ask PTCs CEO Jim Heppelmann. He claims that new software like ALM, SLM, and others for after market services is the way to prepare for a future thats already here.

PTC has certainly moved into a position to meet what Heppelmann and many with him regard as a major shift in the way products will be developed. All manufacturing companies are becoming service companies, he says, and the physical products are becoming more and more dependent on good software. This software leads to smart products. And when you have products with processors and software you can say, "Hey, why dont we give them an IP address and connect them to the Internet of Things?"

Or if PTC, maybe you say, "Why not buy a company with solutions that can deal with all that?" And so a few days ago PTC bought ThingWorx, creators of an award-winning platform for building and running applications for the Internet of Things. The purchase price was approximately $112 million plus a possible earn-out of up to $18 million.

This is definitely an acquisition that extends PTCs ability to support manufacturers seeking to create and service smart, connected products. Following is a background where VFs Verdi Ogewell explains the reasons why PTC invested in ThingWorx.
Christmas and New Year holidays are some of the best times to carry out acquisitions if you want to avoid premature news leaks. PLM developer, PTC announced the acqusition of ThingWorx during the New Year holiday. Price? Approximately $ 112 million. A considerable investment in monetary terms - but why?

ThingWorx is a leading developer of solutions for The Internet of Things. The way products in general are going to evolve may point to this acquisition being exactly what PTC needs. It bolsters their portfolio of software that matches the needs of developers of Internet-connected products. And in future, that may be virtually every manufacturer.

A breakthrough for M2M
If you follow PTCs program strategy, the purchase is no surprise. The Internet of Things is one of the most hyped concepts of the past year. The idea of providing increasingly software-controlled products and systems with sensors and connecting them via the internet (Machine-to-Machine, M2M) has in 2013 reached a wide breakthrough of acceptance.

PTC also invested heavily in solutions for the closely related SLM area (Service Lifecycle Management). With the purchase of ThingWorx, PTC takes another step that signals their commitment to be one of the leading players in the fast-growing M2M market. Analysts estimated that the M2M market in 2012 was already worth about $ 15 . 0 billion (Infonetics Research) for service providers, representing approximately 10 billion connected devices (Cisco).

Still this is only a whisper compared to whats to come: The growth curve is exponential. In 2020 Gartner forecasts that 30 billion devices ("things") will be connected. M2M services are estimated to grow to nearly $ 200 billion by 2017.

But there is more: According to a report by the McKinsey Global Institute ("Disruptive Technologies: Advances that will transform life, business, and the global economy" - released in May 2013), The Internet of Things has the potential to create economic effects in the span 2.7 trillion (2 700 billion) to 6.2 trillion dollars by 2025. McKinsey further believe that 80 - 100 percent of all manufacturing will somehow be linked to the use of the Internet of Things.

Support for PTCs thesis
These growth forecasts are staggering numbers. And these numbers support PTC chief, Jim Heppelmanns thesis that these Internet of Things will revolutionize not only product development, but even what is meant by the term "product": how it is operated, maintained and upgraded.

According to Heppleman, consumers now tend to be more interested in the function and the services we can get out of a product. We dont have to own the physical object. Product delivery is tipping towards what Heppelmann calls, "Product as a Service ".

More and more of the revenues of products in markets from color printers and cellphones to cars and trucks comes from the aftermarket. This trend will make concepts like Service Lifecycle Management (SLM), M2M and The Internet of Things increasingly important. For example, companies like GKN Aero or Pratt & Whitney will rather sell power by the hour than jet engines. And Caterpillar is moving towards a model where it sells capacity to move rock and gravel, rather than selling wheel loaders and excavators.

In this service economy, M2M and The Internet of Things play major roles. With M2M technologies, manufacturers can ensure that the communication needed to optimize and secure the quality of their services works. For example, sensors can warn that it is time to replace worn out parts.

The thin line between products and services is about to disappear
An increasing number of company executives, software developers, and analysts agree with Heppelmann on where product development is headed. Lou Celi of Oxford Economics is one such analyst, and Gartners Marc Halpern is another.

During PTCs annual global user meeting in Anaheim last summer (2013), the three were unusually unanimous. What we are seeing is a paradigm shift where product development is shifting towards systems enginering and integration of mechanics, electronics and software solutions. The boundaries between ERP and PLM systems is going away, and the product definition is undergoing a major transformation at the same time.

- The thin line between products and services is blurring, said Jim Heppelmann in an interview with VerkstadsForum.ses PLM TV News team.

He also pointed out that the drivers of this transformation comes from consumers. We are demanding smarter products and we are really most interested in what you can do with them. Services are increasingly becoming the point.

Altogether these trends lead to products that have "digital umbilical cords" back to the manufacturer who in turn can monitor, manage, upgrade, and interact with them. Its not hard to see the links between this development and PTCs "servitization concept" - the purchase of the SLM solution Servigistics and now ThingWorx is a response to what Heppelmann calls "a complete change in the way we think about products with services and even products and services."

M2M and Internet of Things
M2M has an huge potential for growth. Its not surprising that the big industry players are now forging comprehensive plans for investments that will give product developers a battery of new solutions to design for the Internet of Things (IoT). And a good return on investment, of course.

"All aspects of our strategy to date have centered on helping manufacturing companies transform how they create and service smart, connected products," Jim Heppelmann says. "For manufacturers today, it is clear to us that improved service strategies and service delivery is the near-term 'killer app for the Internet of Things and this opportunity has guided our strategy for some time. With this acquisition, PTC now possesses an innovation platform that will allow us to accelerate how we help our customers capitalize on the market opportunity that the IoT presents."