The Third Platform – A Quantum Leap for PLM and ERP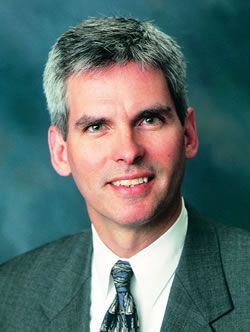 Bildtext: Frank Gens, Chief analyst, IDC
The Cloud, Mobility, Big Data and The Internet of Things are driving manufacturers to rethink the way they design and deliver their products. These big trends in turn are driving a series of corresponding demands on the software developers who serve those manufacturers. Now analysts at Gartner and IDC are talking about a "developmental quantum leap" for technology platforms.

IDCs Chief analyst, Frank Gens, calls it The Third Platform of PLM, MES (Manufacturing Execution Systems) and ERP solutions. "The cloud, mobility, and big data is about to be woven together into a single cohesive unit," he says and the third platform technologies will play a crucial role when almost all of the planets industries are becoming "amazonified".

What that means for software developers is that, "Well see every major player make big investments to scale up cloud, mobile, and big data capabilities, and fiercely battle for the hearts and minds of the developers who will create the solutions driving the next two decades of IT spending", said Gens.
The Third Platform in PLM and ERP

So how are the PLM and ERP developers responding? On the PLM side, all of the big four - Dassault Systemes (V6/3D Experience), Siemens PLM (Teamcenter/Industry 4.0), PTC (Windchill/Integrity, Servigistics/ThingWorx) and Autodesk (PLM 360) have initiatives pointing in the direction of the Third Platform.

The same is true of the major ERP vendors such as SAP, Oracle, and
Infor. Even the midmarket segment players are picking up on this trend.

ENGINEERING.coms Verdi Ogewell has spoken with the ERP and PLM vendor
IFS. Their CEO, Alastair Sorbie said, "IFS definitely plans to stay in
the game when the business world is about to reshape not only its
operations but also its business models".

In coming articles we will also cover other ERP/PLM vendors from
these perspectives (SAP Business Suite/Hana), Oracle (E-Business
Suite/Agile PLM), and Infor (Infor 10x/LN/M3/ION), as well as Dassault,
Siemens, PTC and Autodesk. But first there is a lot to learn from
IFS.

Market drivers for the Third Platform

The logic of the Third Platform is simple: The cloud is
essential for accessibility, regardless of location or device.
Accessibility is also the great driver behind the growth of mobility. At
the same time this increasing number of connected devices, including
M2M (machine-to-machine) and The Internet of Things, is creating
zettabytes of Big Data that needs to be sorted, filtered, and organized
in a way that enables real-time access and interpretation of this
"information tsunami".

Gartner and IDC have underpinned their predictions with numbers:

According to Gartner the value of investments related to cloud
offerings like SaaS and IaaS (Software-as-a-Service,
Infrastructure-as-a-Service) between 2013 and 2015 will grow by over 60
percent reaching a total market value of 42 billion dollars during the
course of the next year.
In the mobility space it is estimated that 50 percent of
business applications - including ERP, CRM and PLM – will be available
as mobile solutions by 2015.
Big Data is forecast to see exponential growth: According to
IDC, this year the worlds enterprises will invest $ 14 billion on
analytics and services, up 30 percent compared to last year.
These trends have led to the most dynamic development environment for
PLM and ERP developers since the launch of the Internet. The same is
true for their customers who are those manufacturers launching new
products that are creating new sets of customer expectations.

ERP Vendor IFS sees a perfect storm

So are these trends a threat, or an opportunity for software
developers? IFSs CEO, Alastair Sorbie talks about "the perfect storm".
He says that most of these dynamics fit this Swedish ERP company well.
In response, IFS has introduced an increasingly broad solution called
IFS Applications - version 8 is the latest.

Sorbie agrees with the analysts on The Third Platform and he
insists that it is a typical example of valuable synergies being created
where 1+1+1 may paradoxically equal 3.2. Technology reporters often
relate the current environment to a fourth industrial revolution. To
get the promised leverage, however, each new technology must hook into
the other while integrating seamlessly with legacy systems. "Its not an
easy task, but trying to maintain the status quo may be riskier still,"
he said.

Microsofts evangelist, Mike Opal (watch him in PLM TV News report: Big Data – Big Problem?)
spoke about the need for Business Intelligence and analytics tools in
the context of Big Data. Mike pointed out that there is definitely a
watershed between the companies that understand how to use Big Data,
and those who dont. He says that if you fail you will soon be swept
away in a market where literally everyone is preparing to adapt to the
new technologies.

Sorbie also stated that their IFS Applications ERP suite has been
rewarding from a technical development perspective, particularly the
success of their mobile solutions, "2013 has been an important year
for IFS in terms of mobile solutions", he said, "and it has given us an
even greater incentive to continue investing in this area. The
mobility trend will continue to boost profitability and efficiency in
any organization, from the shop floor to the boardroom."

Business-critical mobile solutions at telco giant Ericsson

Telecom giant Ericsson has invested in the IFS mobile package,
specifically the IFS field service software. "Ericsson has hundreds
of technicians and they are all equipped with our mobile solutions",
said IFS specialist, Martin Gunnarsson.

This mobile solution is business-critical for telecom providers to
help them meet the demands of their customer SLAs (Service Level
Agreements). These SLAs detail things like installation procedures, up
and response times, and set penalties for non-performance. "Mobility
solutions like IFS provides tools that can deal with the SLAs, but
its just a piece of what our field service menu can offer",
Gunnarsson continued. "Other capabilities involve everything including
appointment scheduling of service initiatives.

"The Ericsson case is a good example of our role as a global
partner", says Alastair Sorbie who pointed out that the company has
installations in 60 countries all over the world.

External endorsements for the IFS ERP roadmap

Most modern ERP solutions include some PLM functionality, and
IFS is no exception. IFS splits the product life cycle into two
parts with the first being the product as a solution from the
manufacturer while the second is seen from the perspective of the
buyer/user. Ideally, this means that both the manufacturer and the
customer can access and use all data generated by each individual
process, from design to manufacturing and in the field, to create an
integrated view for service and maintenance in the aftermarket. Sorbie
says the goal of IFS Applications is to manage products from cradle to
grave within the framework of one "true lifecycle solution".

This product vision resonates with analysts. IFS Applications has
been named a leader in Gartners Magic Quadrant for single-instance ERP
for product-centric midmarket companies.

But IFS has its challanges too. According to Dennis van Bregt, Global
Head of ERP at APM Terminals, global reach and localization are two
such challenges. He explains that as an international container
terminal operater, APM is expanding into countries like Ghana, Turkey,
Costa Rica and Mexico. These new territories give rise to challenges
like local legislation and tax law compliance and reporting.

"Localization becomes an issue here and we have come up with the
actual specifications ourselves and ask IFS to modify the software to
meet local demands. We have to be tax legal and compliant in every
country where we operate, because our main stakeholders who grant us the
rights to operate a terminal are governments", he says.

The main issue for IFS according to van Bregt is their relatively
small size and footprint in these countries, especially compared to
larger and more established vendors. "We have very aggressive expansion
goals, but we need IFS to help us achieve them", says van Bregt. "This
means agile implementation, to get it on the ground quickly, without
having to think about local legislation, and having to translate it to
business requirements ourselves.

"We certainly take customer demands seriously and this is a
challenge that well spare no efforts to solve", Sorbie commented.

Product as a Service for manufacturers and for software developers

Praise and blame, yes – but "IFS Applications 8 has been
enthusiastically received and so far, 150,000 individual users have
gained access to the system", notes Sorbie. To keep up with customer
demands, IFS has implemented nearly 1,000 enhancements since
Applications 8 was released in 2012 including certification for the
Microsoft Windows Azure Cloud.

"In the North American market, IFS offers customers the ability to
run "IFS Applications-as-a-Service", according to IFSs CTO, Dan
Matthews. In 2013, 25 percent of the companys customers chose this
solution for new installations. In these cases, IFS manages operations
and maintenance of the underlying infrastructure as well as the
software itself. Matthews adds that Big Data solutions are also a part
of IFSs suite offerings, IFS Business Intelligence, Business Analytics
and Demand Planner.

"There are two well-known sources of big data", he continues,
"social media and the Internet of Things. At IFS we state that there is
a third key source: Everything that happens in a business application.
This is not just all the orders, shipments etc, but also the behavior
of the people using the application. What things are they searching
for? How often do they access certain information?. Only by combining
and analyzing these three sources of data together can you maximize the
business insights from Big Data".

Through these solutions, IFS has provided their portfolio with PLM
capabilities to give their customers the ability to manage data not
only during product development, but also throughout the product
lifecycle including the aftermarket. This broad functionality is one of
the reasons that IFS counts defense contractor Saab among its customer
base. Saab, among other things develops, builds and markets the jet
fighter Gripen.

In the PLM TV News TV-report, Big Data – Big Problem
Saabs CIO, Mats Ran, explained how they use IFS Applications to
provide this product as a service, "We are definitely moving towards a
market characterized by product-as-a-service". Both businesses and
consumers today tend to be more interested in the functions and the
services they can get out of a product, rather than to own it. For
SAABs Gripen this means that the combined aircraft, operation and
maintenance can be bundled in a package deal, to be sold under the
"power-by-the-hour" concept. In this environment the life cycle
perspective is of utmost importance. In the case of an aircraft, the
company has to keep track of product data for 20, 30, or even up to 40
years.

So, its not only manufacturers who are being impacted by the market
forces of Big Data, Mobility, Internet of Things and the Cloud.
Software vendors are also rapidly evolving to help their manufacturing
customers compete in this new world of products and services.