Truck Maker's PLM Model a Focus in Volkswagen's War Over Ownership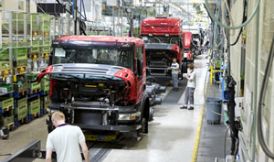 Bildtext:
Can a great product realization system and PLM boost the share value of truck maker Scania? This question arises from the ongoing tug of war over the ownership of this OMX NASDAQ listed company.
Currently the German automotive giant Volkswagen Group (VW) and its subsidiary truck manufacturer MAN holds 60-70% of Scanias shares. Now VW have offered to buy the remaining stock at approximately $ 31 per share.
Scania struck an independent committee to evaluate the offer. Today, the Committee announced that,
"The bid does not reflect Scanias long-term value".
One of the crucial factors in the committees assessment is Scanias production development model, considered by many to be "world class". Scania trucks are of high quality and produced under a lean- and modular production system inspired by Toyota. This system is a leader in the heavy truck industry.
The key driver in Scanias product realization model is how the
company has woven together its R & D, product and production
development processes into a unique, holistic system. While digging
into the background of the deal, Verdi Ogewell compared Scanias
product development and PLM approach to how things look at MAN.

Ultimately, we are talking about big customers and big money –
Scania, MAN and Volkswagen invest a lot to keep their competitive edge.
As a result, its hardly surprising that this situation involves all
of the "big three" PLM vendors, Dassault Systemes, PTC, and Siemens
PLM, each of whom is battling to increase their share of the PLM
environment at these companies.

Truck makers are an important PLM market

The truck market has historically been early adopters and
strong users of PLM. There are many reasons for this high level of
utilization of systems like CAx, simulation, PDM, proprietary
configuration databases and similar program components, but the most
important one is perhaps the fierce competition that characterizes this
market.

Over the past decade the industry has been consolidating. In the
category of trucks over 16 tons; Japanese Isuzu dominated the market
with 453,379 manufactured units in 2012. Second on the list is Volvo
Group (containing among others, Mack and Renault Trucks) with 224,017,
closely followed by Daimler (including Mercedes, Freightliner e t c).
Further down the list we find Toyota, Tata Group, and of course,
Volkswagen Group (including Scania and MAN).

Its hardly an exaggeration to call it cutthroat competition. Its in
response to this environment that Volkswagen aims to consolidate its
stake in Scania and delist the company from the NASDAQ OMX stock
exchange.

PLM at Scania and MAN

One of the main points in todays product development and realization
environments is about systems integration. This aspect is a theme in
almost everything, from requirements and CAD models to product
configuration, PDM/PLM and DM (Digital Manufacturing). The more
advanced a product is, the more complex the IT solution becomes from an
integration and process standpoint.

Generally speaking, the framework and the software components that
surround the development and manufacturing in companies the size and
complexity of Scanias and MAN is something you dont want to change
too frequently. However, should you decide to do it, the benefits have
to be clear, safe and feasible within a reasonable time frame. And
losing momentum in the production is not an option. Thus, this is not a
decision made lightly.

That said, a possible merger between the Scania and MAN would impact both product development and IT structures.

Different PLM "philosophies"

Today, Scania and MAN have somewhat different "philosophies" regarding product realization systems:

Scania has, according to
analysts, a more advanced and holistic view of how the product
development and manufacturing should be designed and implemented. Scania
regards the product realization as one single integrated process.
MAN, on the other hand,
operates with a clearer distinction between the two worlds of product
development and manufacturing. MANs points of integration are not as
advanced and sophisticated as Scanias.
Even today these differences cause problems. As the major
shareholder, Volkswagen has been pushing for more cooperation and
streamlining between these two truck manufacturers. This in turn, tends
to create "political" problems; neither of the companies wants to give
the other priority when it comes to what the product realization
processes and the associated IT software and brand structures should
look like.

Ultimately, its about sharing technology and best practices in an
environment where the companies compete against each other in the
marketplace. Theres also the interactions of personal prestige and
future key managerial positions to be considered. These are bound to
create a politicized environment if Volkswagen buys the rest of the
Scania shares, one that would heat up further if VW decides to merge
the two organizations.

The PLM environment at MAN

At MANs truck division in Germany the PLM environment is based on
Dassaults Catia on the CAD side, but also PTC software such as Creo
(Pro/E) and Windchill (PDMLink). According to Verdis sources, MAN
wants to move ahead with a more modern PLM solution with PTCs
Windchill suite as its vPDM backbone (virtual Product Development
Management).

Notable in this context is also that MAN Diesel & Turbo is
leveraging the smaller PLM developer Aras platform to go beyond
traditional PDM to manage complex engine configurations and variants
over a 30 year lifecycle.

MAN uses Siemens Tecnomatix for digital manufacturing. Tecnomatix is
also where the mBoM (manufacturing Bill of Materials) is produced (the
data is picked up and processed for production from PTCs PDMLink).

The PLM environment at Scania
Traditionally Scania has been regarded as a "Dassault"
customer. DS Catia V5 is the main solution on the CAx side (a system
they are generally satisfied with). Dassaults Enovia V5 serves as a
PDM "umbrella" for the distribution of product data "on top" of
Scanias proprietary product configurator, SPECTRA. There are also
interfaces with digital manufacturing, based on Dassaults Delmia.

DS Enovia, PTCs Windchill or...

There are now indications that DS Enovia will not be Scanias solution
in the future. History is one reason - it took a long time to get
Enovia V5 in place. Another thing that points this way is that Scania
has spent the last year running a pilot based on PTCs Windchill as a
potential replacement for Enovia. There is still no official evaluation
of how PTCs solution has worked. An additional uncertainty is that at
least one more PLM player is lurking in the reeds, so its far from
certain that PTC will get the last word.

As for Dassault, CATIAs role seems to be the only thing the French
3D Experience developer can be fairly sure of. On the other hand,
Scania does not want to be in a pure DS V6 environment (mainly due to
coupling requirements for Enovia); instead they plan for a mixed V5/V6
solution for the future. This apparently has been approved by Dassault.

Advantage, Scania?

As is so often the case in merger discussions, the questions
posed above are politically charged. None of the players are
typically willing to change solutions or give up autonomy in those
choices. Time is a critical factor for these companies, so everyone
wants to avoid a drop in production or problems with new product
development problems.

Advantage, Scania? Yes. In the short-term. In the long term? Maybe not.

The respected former Scania chief, Leif Östling, is about to leave
his lifetime achievement in the hands of Andreas Renschler, a German
truck specialist recruited from Daimler/Mercedes. And so far we havent
even discussed the third option - VAGs (Volkswagen
Aktiengesellschaft) choice of software has been "all in" on Siemens AG
and its subsidiary Siemens PLM Software.

How things turn out in this case remains to be seen. But the stakes
are high and as the controlling shareholder, not even the Volkswagen
management can afford to see Scania dropping a world class environment.