SolidWorks' Jeff Ray confirms in an
interview transition to Dassault's V6 platform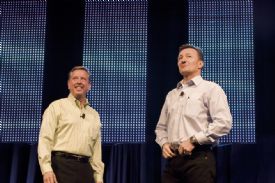 Bildtext: SolidWorks CEO, Jeff Ray, (left) Dassault Systemes CEO, Bernard Charles (right).
Jeff Ray, the CEO of SolidWorks, confirmed in an interview, with VerkstadsForum's Verdi Ogewell, that the company will be moving their CAD solution to Dassault Systemes' V6 platform. Today the program is driven with Parasolids kernel technology, and has been since the start, in 1995. A platform which will remain in use as long as the users want it to, but the next generation of SolidWorks 3D CAx solutions will be based on the Dassault V6 platform and the CGM core technology, which also is, in fact, what Dassault's CAD flagship, Catia, uses.
- The customers choose themselves when they want to switch to SolidWorks' new V6
platform, says Jeff Ray. But they will have several options open to them:
They can remain in the SWx environment (x stands for the version number you might be using i.e. SW 2010) that they already have. "We have a great relationship with Parasolid, and that will continue for a long, long time."
Or they can move to the new V6-based platform whenever they choose to do so.
- What's the significance of the kernel technology in this context?
- The kernel is immaterial - what counts, is that Dassault's customers in the future can utilize the advantages of the improved interaction between our products. It's our job to make that invisible and easy for the customer, and we'll do that, said Jeff Ray.
- Will SolidWorks remain as an individual product, or will the CAD-tool become a kind of mainstream "Catia Light" solution?
- The SolidWorks brand is very powerful – that will not change. In fact, SolidWorks will be a more visible brand to a broader market as we add exciting new, accessible products. We're bringing more products to the market in the next three years than in the last 15.
- Will the fundamental changes that SolidWorks now enact change the way the tools work and are used?
- Yes, the new product will be a very, very compelling new design platform that removes a lot of barriers that engineers face today with PC-based design tools. This is as significant a shift as the Windows-based shift was driven, coincidentally, by SolidWorks '95. It's only natural to expect us to exploit new platforms for the engineering community to help them design better products.
A policy speech in Anaheim. For the readers of VerkstadsForum this change does not come as a complete surprise. The indications have been numerous, starting with the SolidWorks World event in Anaheim earlier this year. When in an interview with PLM TV (see PLM TV News, Program 1 2010 at www.verkstadsforum.se), Jeff Ray revealed that SolidWorks would become a PLM company (as opposed to being a company that develops CAx/PDM solutions). Instead, it's now all about PLM, the cloud, touch technology and social media, said Ray.
Analysts characterized Jeff Ray's presentation as something of a policy speech. SolidWorks changes course in their journey towards creating the product development of the future. And just as plain was the fact that this new path was a blueprint copy of how the parent company Dassault Systemes is entering the future. In an effort to underline this affinity, SolidWorks brought in the CEO of DS, Bernard Charles, who also took the lead on stage before a crowd of roughly 5000 SW users.
And while Dassault and SolidWorks now embrace each other in a way previously unheard of, the companies still maintain the differences between their respective offerings. The main thing to take away from this seems to be that Dassault are now looking to consolidate their research and marketing resources - one R&D department instead of two - as well as a number of synergies on the marketing side to maximize the efficiency of every cent they spend.
When it comes to the bigger picture of what is going on, one can note that there are strong elements of the ongoing struggle for the market leadership of the entire CAD and PLM industry. Dassault leads the race when it comes to revenue, with the competitor Siemens PLM a close second and demonstrating strong ambitions for the throne. A paradox is that Siemens owns the core technology, known as Parasolid, that SolidWorks currently uses, on a license basis. This means that Dassault Systemes has to pay for every license that SolidWorks buys, which in turn goes straight into their worst competitor, Siemens PLM's, pocketbook.
This is no doubt a thorn in the side of DS's boss Bernard Charles. His commitment to winning over SolidWorks users to V6 and in the longer run to transform his "baby", Catia, into a solution that works for all types of user companies, big and small, might also bring a significant revenue increase for Dassault Systemes.
A willingness to invest in the future. On the technology side, it is to be stressed that the SolidWorks investment is not without its risks. But on the other hand, it's also tremendously important for companies looking for a place on the market of the future to create the resources required to develop the technologies that will carry. And there's no doubt to be had about Dassault's willingness to do this.
VF's CAx-tester predicted the change. To summarize, we want to offer a perspective that possibly explains the relative lack of real news in the latest version of SolidWorks, by quoting VF's CAD-tester, Al Dean: "One thing that might seem incongruous is that theres no mention of Direct Modelling, something which many believe SolidWorks is falling behind with other vendors such as Siemens PLM, Autodesk, SpaceClaim, CoCreate/PTC et al. And it does seem, on the surface, odd that its being ignored. Does this mean SolidWorks has no interest in Direct Modelling believing that its history-based approach is the best? Could be true. Another argument might be that SolidWorks World in California this year saw the unveiling of the next generation of SolidWorks based on the V6 CGM kernel from Dassault Systemes - the same that underlies Catia V6. if SolidWorks are truly moving to the V6 platform (and I believe they are) then it wouldnt make sense to develop new modelling techniques within the current product - as theyre already well established in the V6 platform.."