The Market for PLM Services: Why Accenture thinks they can rattle IBM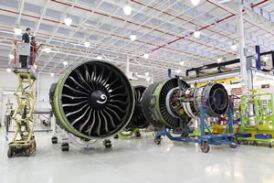 Bildtext:
While they might not be the celebrities of the PLM market, the consulting giants still play a crucial role in big industrial IT. Companies like IBM, Accenture, HP, TCS, Capgemeni and Deloitte are well acquainted with the problems that arise in PLM and ERP implementations.

These large service providers have historically focused on providing installation services and connecting separate systems, but today the PLM services market is undergoing major changes. "Our recent research in the Aerospace & Defense (A&D) industry shows that those who have long invested in PLM strategies and enabling solutions are looking for more", claims analyst Stan Przybylinski of CIMdata.

Stans view is supported by Accentures Senior Managing Director Eric Schaeffer, "Yes, we see a major change in the way we deliver our services. We not only work for a client, we work with them to jointly go to market. A good example is the joint venture that we have set up with GE Aviation, called Taleris. That venture is about real time monitoring of critical equipment. We started with aircraft engines, but we now provide mointoring from tip to tail".
According to CIMdata this is a general trend across PLM service providers. "Their
clients want help with more than just installing a solution. They
want to make the best use of the advanced features like program/project
management, supply chain management, etc. Systems integrators that can
provide these advanced skills, especially if they are focused on
specific industries, will be better positioned for growth going
forward", says Przybylinski.
Growth is one of Accentures primary goals. Presently they
are number 2 behind IBM when it comes to PLM Service revenues (2013).
But IBM better watch out; Accenture is eager to become the number one
PLM service provider. Accenture invested heavily during the past twelve
months to buy the competence they didnt have. They have brought a
number of concrete solutions and visionary initiatives to life, such as
APLS (Accenture Product Lifecycle Services) and a variant of the
Industry 4.0 concept, Digital Industry 4.0.

Will this be enough to rattle IBMs top postion? I spoke with Eric
Schaffer and Stan Przybylinski about the challenges Accenture face,
what they are doing to meet them, and how the market for PLM services
is evolving.

Many believed that IBMs PLM saga was over in 2009. They were wrong

When IBM sold their PLM division to French developer Dassault Systèmes
(DS) in 2009 for $ 600 million, many believed that IBMs PLM saga was
over. They were wrong.
At the time, IBM had PLM revenues of well over $1B, selling and
implementing only DS solutions like Catia (CAx), Enovia (cPDM), and
Delmia (Digital Manufacturing). Now, IBMs Software Group is once again
approaching revenues of $1B and this global giant was recognized by
CIMdata as one of the "PLM Mindshare Leaders" in 2013, joining an
exclusive group of PLM players including Dassault Systems, Siemens PLM,
PTC, Autodesk, SAP and Oracle.
While IBM earns significant revenues from implementing cPDM solutions
(collaborative Product Data Management), they lack a comprehensive
solution of their own. That could have been a source of concern when
IBM cut ties with their only software provider. However, cutting those
ties as they sold the PLM division has paid off well. Today IBM is free
to work with solutions from all the major PLM and ERP developers,
giving them equal footing with the other service providers like
Accenture and HP.
HP is the third-largest PLM systems integrator, trailing only IBM and Accenture.

Stan Przybylinski adds that, "Accenture and HP (primarily supporting
Siemens PLM Software) have major global PLM presences and could be
positioned to challenge IBM in both services and PLM supporting
infrastructure. This list could also include the major EDA solution
providers such as Cadence, Synopsys, and Mentor Graphics, whose software
tool contributes greatly to the PLM market".

This is what the PLM Service Providers top ten list looked like last year:
(Source: CIMdata, the numbers are aproximations based on a bar graph)
1. IBM $ 750 million
2. Accenture $ 550 million
3. HP $ 440 million
4. Siemens PLM $ 360 million
5. T-Systems $ 295 millon
6. PTC and SAP PLM $ 290 millon
8. Tata Consultancy Services $ 260 million
9. Dassault Systemes $ 250 million
10. Atos $ 230 million
Not only a leading ERP implementor – Accentures three competence areas
Eric Schaeffer set out the three competence foundations for Accenture:
1. ERP:
The company is best known as an ERP
consultant, systems integrator and outsourcing specialist. "I believe
that we are one of the leading implementors of large SAP solutions.
The ability to connect these solutions to PLM and MES is something that
Dassault, Siemens PLM and PTC values ??us highly for", says Schaeffer.


2. PLM:
While the 1990s were the golden decade for ERP
providers, the first ten years of the 2000s brought a breakthrough for
the PLM suppliers. Now the globally active industrial enterprises,
particularly in the automotive and aerospace, are talking about
"innovation" as the key to success. Thus, the IT-supported product
development processes, as promised by PLM, have progressively entered
the spotlight. Accentures present PLM focus, including acquisitions, is on large
multi-nationals who are about to, as Schaeffer asserts, "utilize the
power of large-scale change projects in PLM."
3. The Digital Enterprise:
There are many touch points to
consider when it comes to PLM services, but they all have a common
theme: the Digital Enterprise. "Our clients ask us, How do we make
sure that we can harness the digital transformation waves that are
coming? How will that impact the product development lifecycle processes
in our company?"
Schaeffer adds that, "Machine-to-machine communications, more connected
products and more software in the products, combined with more digital
services around the products" also are factors behind what he calls, "a
completely new product realization landscape. And we can see many of our
clients - often hard core products companies –moving towards these
types of services."
Three acquisitions that will boost Accentures PLM services

Accenture typically works with large implementations for large
companies. They have few clients and aim for long lasting
relationships. Our key industry segments are Automotive, Industrial
Equipment, Aerospace & Defense, but also for us "newer" industries
like Consumer goods, Food & beverage, and Packaging", says
Schaeffer.
The customer list contains well-known company names like GE, Airbus, Eurocopter, Michelin, Volkswagen, Lufthansa (MRO).

Accentures assignments often start with a basic implemantation of
either Siemens Teamcenter, DS Enovia or Delmia, PTCs Windchill or
ThingWorx for example, "But we also provide things like engineering
methods and engineering work that has to be done up-front including
change management and a wide variety of services. Weve been asked by
our clients to do not only the horizonal integration from engineering to
after sales but also the vertical integration in the manufacturing
space; tier 1, 2, 3, 4, the ERP/MES systems and then connect to the PLM
systems."
Accenture has strengened their abilities during the past year to meet these demands:

They bought German Prion Group, primarily
specializing in Siemens PLM Teamcenter environments in Automotive,
Aerospace & Defense, Industrial equipment and Consumer goods.
Accenture bought PCO Innovation, a
Canadian/French company that specializes in Dassault, Siemens, PTC and
Autodesk environments. PCO Innovation had 600 people, 300 in
Canada/North America, 300 in Europe (France, UK and Germany).
Earlier this year they purchased a part of the Hungarian embedded systems and industrial automation specialist, Evopro Group.
"Well in line with what IBM can offer"
These acquisitions, when added to Accentures already existing PLM
workforce, puts the companys 4,000 consultants as one of the worlds
largest service providers. In terms of size, Accenture is now well in
line with IBM.

According to CIMdata, "these acquisitions, and the announcement of
Accenture Product Lifecycle Services (APLS) shows their renewed
commitment to PLM. This will position them well against IBM and other
large competitors, and expand their global team to provide the local
resources industrial companies often prefer."

"Thats right", Schaeffer comments,"These purchases enhance our
end-to-end offering in PLM services, but its about more than that.
Prion adds things like qualified strategic and process consulting,
system implementation, data migration and application control. And with
Evopro, we improve our ability to help clients maximize their ROI on
investments in industrial control software and automation."

In the latter case the acquisition provides a deepening of the
companys newly launched Digital Industry 4.0 initiative. "Today we see
how three global trends transform our customers value chains:
Digitization is one, mobility a second and "everything as a service"
("product-as-a-service") a third", says Schaeffer. "This transformation
requires digitally based solutions, intelligent processes and services
within the framework of "Digital Industry 4.0".

100 million Euros on a PLM implementation with no business results

"Unfortunately, several of our clients, while in the midst of deploying
their PLM solution, say: weve lost track of the real business value
of the X million euros weve invested over the past three years. Some
of them even decide to pause the implementation, take a step back to
once again take a look at the roadmap and the associated values and
reconsider how to realize on the investment".

"This happened to one of the industrial companies I worked with. It
all started when the CEO came to the department and asked: I have
spent 100 million euros on the implementation – what are the business
results? They couldnt give him a proper answer."

Their PLM project was mainly driven by the engineering department
and from a technical standpoint, Schaeffer explains, "Neither the IT
department, nor any of the business departments were involved.
Furthermore, they went into the implementation without having defined
the objective of the vision or what the potential was in the way they
currently operated. Finally they misjudged or underestimated the impact
on the product development process. Ultimately, the integration
didnt work. A specific problem was that they underused the
capabilities of the solutions they had, which in turned undermined
their business case."

IDC, Gartner and CIMdata talk about a major shift in the PLM Service Provider market.
"Its not only a coming phenomena, it has already happened. There are
several examples of major changes in the way we deliver", says Eric
Schaeffer. He asserts that the trend is about sharing risks and
revenues in projects, "In some cases we are even embedded in our clients
businessmodel where we are paid per transaction. We have become part of
our clients value chain."

He points out the joint venture with GE Aviation, Taleris, as a good
example: "Its about real time monitoring of critical equipment. We
started with aircraft engines, but we are now able to provide tip to
tail monitoring. With the underlying analytics we can perform
predictive maintenance, rerouting, delaying or accelerating a plane to
meet the time requirements of other events in a transportation chain."

Can Accenture challenge IBMs position as the best revenue performer?
Over the last few years things like systems integration,
digitalization, mobility and concepts like product-as-a-service have
created an almost countless number of new business opportunities.
Unfortunately, nothing in this "brave new on-line world" is easy to
carry through. Manufacturers will continue to call on service providers
to play an important role in the creation of new products and
distribution processes.

Many clients of consultants like IBM, Accenture and HP have only
recently begun to devote energy to their evolving global customer
markets and the way products are realized and shipped or used. In a
survey 12 months ago, Accenture learned that, according to the top
decision makers, future growth would come from markets that the
participants not yet were in.

Undoubtedly concepts like PLM will play a key role in the product
realization processes that will be required to drive into these new
markets. Equally certain is that the C-level management will take a
growing part in decisions regarding IT systems and services that can
make the product realization processes bring new products to market
faster.

PLM investments are increasingly becoming C-level questions. The
price tag alone puts these investments at the center of executive
attention. Top level consultants like IBM and Accenture are expert in
the art of communicating with C-level executives.
2013 was not a good year for revenue growth for PLM service
providers, "The major systems integrators were highly visible but few
enjoyed substantial growth during the year. Companies spent liberally
on software, but the services spend was delayed", says CIMdatas Stan
Przybylinski.

If the global economy continues to improve in 2014 it could
accelerate the services investment and boost the growth of PLM service
providers. With its recent acquisitions (Prion, PCO Innovation, Evopro)
and solutions initiatives, Accenture is well positioned to gain a
growing share of these growing revenues.

IBM better watch out.