Management swap at SolidWorks - Jeff Ray Steps down as CEO, Bertrand Sicot takes over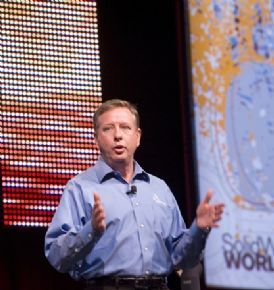 Bildtext: Jeff Ray steps down as CEO of SolidWorks. Picture was taken during the SolidWorks World 2010 event in Anaheim.
Dassault Systemes are replacing the leadership at its Solidworks subsidiary. The company's current CEO, Jeff Ray, has according to a press release "been promoted into a leadership role at Dassault Systèmes of France", and the current manager of SolidWorks global sales, Bertrand Sicot, will assume the role of global CEO.
The new year started off in a dramatic way for 3D CAD developer Solidworks. When VerkstadsForum interviewed Jeff Ray a few weeks ago, there were no indications of an impending change of management. Ray did, however, reveal that the next generation of their 3D CAD solution would be switching platforms, moving to Dassault V6, which by the way, is the same one that DS's flagship CAx solution Catia uses. To date, Solidworks have used the Parasolid kernel, which is owned by Dassault's toughest competitor, Siemens PLM. The parasolid technology will, however, remain in place, "as long as the users want the option", as Ray put it.
A logical development. For the sake of context one should remember that Jeff Ray succeeded John McEleney in 2007. McEleney was a known skeptic of tying the companies too closely on a technological basis. SolidWorks' mission was according to McEleney to deliver the simpler solution for everyday needs, while Dassault's Catia would be free to focus on developing PLM solutions for the customers that required such tools. But what McEleney believed in was capable, easy-to-use 3D CAD, simulation and possibly also a simplified workgroup PDM component. But there would be a clear boundary line between the offerings of the companies. With Jeff Ray's appointment this changed. Step by step SW has closed the gap. And when Ray, in an interview with VerkstadsForum, confirmed that the company would create a SolidWorks V6 solution, it was basically the logical continuation of the development path first struck when he took office.
Denied VF article. For an outside observer, the choice of technology platform - V6 or Parasolid - might seem like a point of little contention. And this is also what Jeff Ray claimed, in a VerkstadsForum interview in early December. Although one should remember that the values mentioned above have traditionally been maintained by SolidWorks and their solutions, and are generally not something one would associate with Dassault's more complex systems. There has always been a certain amount of scepticism within the SW community towards what Dassault represent and whether or not SW now should get on the "Catia train", the V6 platform and everything else that would entail. Therefore the success of a technological swap would be determined by how well the company can communicate this to the users. Because it has to be done in a way that doesn't compromise the trust users have in the robust 3D CAD and CAE capabilites of their current product.
Verkstadsforum.se got some first hand experience of how sensitive the matter is, when we publicized the article in which Jeff Ray confirmed the V6 migration. The telephones ran hot, and as it turned out, even Ray got cold feet when the news spread to blogs and social media.
Through his press secretary he denied conclusions in the article, claiming to have been misquoted. This was later retracted, and in the end it turned out, that what he really objected to was the claim that they would be using the Dassaut CGM kernel.
Why did Ray step down? All of this begs the question if Jeff Ray's departure is related to the technology platform, or if there are other, more pecuniary reasons behind it. The last two years have been rough on the company, with a big dip in sales, even though there has been a recovery during 2010. But in this situation SolidWorks are by no means unique from its competitors, like Autodesk for instance, the entire industry has clearly gone through a rough patch. One possiblity is that SolidWorks, under Jeff Ray's leadership, has failed to meet the internal sales goals, but this is still just speculation.
That said, what still speaks for this theory is the fact that Bertrand Sicot, who now replaces Ray, is most definitely a man with sales on top of his agenda. Sicot came to SolidWorks in 1997 and has during his entire SW career focused on the sales-part of the business. With Jeff Ray off the ship, there are clear indications of that the focus of the top executives, with Sicot at the helm, will shift towards maximizing revenue streams rather than optimizing them.
A bittersweet feeling. According to Dassault's press release Jeff Ray will relocate to France and DS's headquarters in Velizy, outside Paris. He has gained the title of "Executive Vice President of Geographic Operations for Dassault Systèmes" and will be responsible for improving market offerings for the company's 12 geographical locations. He does admit, however, that it's not without a "bittersweet" feeling that he leaves his current position.
- During the past four years I have witnessed a SolidWorks that has done great things. Including things like good revenue growth and the building of an amazing channel organization.