"Demolish the silos in PLM": Why Dassaults Bernard Charles believes in the 3D Experience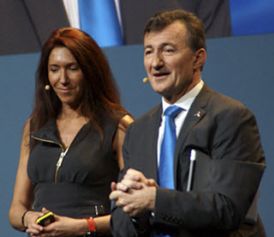 Bildtext:
Is Dassault Systems' 3DExperience platform "the next step beyond PLM"? CEO and president, Bernard Charlès, claims it is, and many initiated observers agree. At least to the point that changing patterns of product development are driving new IT needs. The way we realize products, use them, communicate and even the way we think is rapidly changing. Things like non-linear development processes in product development (systems engineering), the internet based interaction between producers and end-customers - even between machines - and the product-as-a-service concept creates new demands on industrial IT. These are facts, but is 3DExperience the answer? "Absolutely", says CIMdata's, Peter Bilello, "but it's only one answer. There are others…"
The 3DExperience concept was presented about two years ago. The
first ready to use platform on the Cloud or on premises came earlier
this year. Given the cost and the complexity of migrating from any other
PLM platform, even Dassault's own V5 to V6 3DExperience cannot be
expected to happen overnight.
A couple of big companies like car manufacturers Renault and Jaguar
Land Rover are enthusiastic and have given the concept their approval,
as have some smaller proactive companies like architect firm SHOP, but
the vast majority is still cautious.
This leads us to wonder what to expect in terms of market penetration
for this platform? How "ready" is it? How "ready" are the customers?
And given the history of Dassault's V4 and the V5 PLM solution, do they
have the technological credibility to motivate a massive transition at
this early stage?
Let's take a closer look at these issues.

The 3DEXPERIENCE Platform demands a cultural change, and that's hard
A striking feature in Dassault's communication around technology is the
company's visionary approach to almost everything. Bernard Charlès has
developed this into an art. The upside is inspiration and a driving
force that encourages daring bets on new modern technologies. The more
problematic side is that things can get "blurry" in the early stages,
leading to challenges in delivering on promises in the short term. The
launch of 3DExperience is not immune to these risks. Like any new
complex software launch, there will be things to work out. Perhaps more
importantly change on this scale demands a cultural change that is
often more difficult than the IT challenges.
"Yes", says CIMdata's Bilello,"the platform technology isn't
necessarily the problem. I'd rather claim that it is the cultural change
that has to take place in an organization to take advantage of this new
way of thinking and to understand how these technologies and solutions
are brought together. That's really the issue."

DS' Enovia chief, Andy Kalambi, says, "3DExperience is about
simulating real life experiences that you want to deliver to your
customer. Every company has a promise to their customers and that
promise is eventually realized through a value creation process that
touches many different points within an organization. Now, to ensure
that a brand promise is consistently and sustainably delivered it has to
be managed across the entire enterprise, and we have assembled the
necessary IT tools."
He adds that so far PLM has just been about helping companies to
develop their products, "But the world has moved beyond the product; the
end-customers are demanding experiences around the product" and the
secret of market success is to be able to innovate not only on the
product, but also on the experience.


Bridging the disconnections in product development requires a rethink of work processes
According to Kalambi an experience is "an expectation that you set with
the customer (in this case the end-customer) in terms of how the product
will behave in the user context". This is beyond the form and fit of
the product. Regardless of whether we're talking about a car, electronic
equipment or pretty much any other product being realized today, there
is generally a lot of software involved. "The car isn't just about the
driving experience", he adds, "it's also about entertainment, smart
phone connections, navigation systems and stuff like that, and a lot of
this is still not well integrated and managed through the design and
product realization processes".
There are still a lot of disconnections that can eventually compromise the experience you're delivering to the customer.
"CAD for instance, has been a separate world all these years, where
you've been collecting requirements from disconnected environments, and
the same types of barriers surrounds the job all the way through product
development to manufacturing."
So Dassault has set out to combine a whole range of technologies that are more commonly used separately.


The framework of the 3DExperience:
Everything is built on the V6
architecture. The different features that companies need for product
realization are delivered as apps on the 3DExperience platform

The "interface" for navigation is the "3D Compass", through which users navigate, search, and collaborate

The Enovia app serves as a product data backbone

There are nine apps for different
purposes: CATIA (high end CAD), SolidWorks (mainstream CAD), SIMULIA
(CAE, simulation), DELMIA (digital manufacturing), GEOVIA (natural
resources 3D modeling), EXAlead (a search and intelligence tool), 3DVIA
(visualization), Netvibes (dashboard intelligence) and the new 3DXcite
(real time visualization).
Based on these tools DS has
created a series of industry specific packages "designed to address key
business processes of individual industries that are comprised of
industry process experiences".
The main idea behind DS' 3DExperience
is to provide the IT tools needed to break down the silos and connect
the development work not only to software, electronics and
manufacturing, but also to the end-customers.

No doubt there are similarities and
touch points between what this solution aims to do and Siemens PLM's
Industry 4.0 concept as well as PTC's broader ALM, MES and SLM/IoT
scope. The difference is that Siemens PLM places a higher priority on
the engineering side of product realization, whereas PTC presently zooms
in on the aftermarket and product-as-a-service concept.

The 3DEXPERIENCE Platform is a big marketing challenge
This is not an easy message to get through to an engineering
organization that is more used to dealing with technical issues like
functional design issues, change management, BOM creation and so on.

"True", says Peter Bilello,
"engineers are used to working by themselves in their silos. The same
goes for manufacturing and logistics. Okay, we tried things like
concurrent and collaborative engineering, but if I really want to
optimize the life cycle it's a system of systems. It's not just the
product as a system. It's the manufacturing systems, the support
systems, the refurbishment systems… it's all the systems that make out
the whole life cycle."

That's a whole mind set change, he
claims, and that's the restricting factor. The 3DEXPERIENCE platform
represents a big marketing challenge for Dassault, because it requires
people to shift how they think about the product information, the
product and about collaboration. "To me that's the issue".

So what are the odds for a 3D
Experience breakthrough? Dassault has invested a lot in 3DExperience.
Bernard Charlès claims "a couple of billion dollars". This is also what
led him to change the company's go-to-market model a couple of years
ago. Going from a "science-centric approach" the company took steps to
close the distance to the customers, and by doing so become more market
driven.
"
But we are not departing from what we
have done in the past. We're still scientific, but we've realized that
there is more than just to provide tremendous user experiences and core
technology to our users. We've realized that it's critical how those
technologies fit together to create value for the enterprise", says
Charlès.


PDM a là Dassault hasn't been a "straight road"
Although 3DExperience is a great concept, the contextual challenge is to
leverage Bernard's vision with DS' capabilities to deliver on the
promise. This has been somewhat of a problem for Dassault historically.
While the CAD system CATIA always been a success, the PDM hasn't:

Given this history, it isn't surprising that many of the V4 and V5
customers spent up to five years to get their Enovia V5 PLM environments
to work satisfactorily. Swedish truck maker Scania is one such example,
European aircraft manufacturer Airbus is another.
"We have looked at V6, but we dont prioritize the latest version.
But in time Im sure that we will go over to V6, with the reservation
that the way there is guided by the actual business value," said Airbus
PLM executive, Anders Romare, in a recent ENGINEERING.com interview.


"Hundreds of industry leading customers"
So, caution still characterizes the market adoption of 3DExperience.
Given the "revolutionary" concept, this is to be expected. Of Dassaults
nearly 190,000 customers, the best estimate is that "a couple of
thousand" have switched to this new technology. No figures are revealed
by Dassault.

The closest thing to a quantification I could find was in a recent
press release (24th of April) where Dassault speaks of an adoption made
by "hundreds of industry leading customers". This might be the case
depending on how you define "adoption", but in general we're talking
about a modest 3D Experience take-up so far.
This may be one reason why Dassault is now increasing their marketing
efforts. They are now putting an emphasis on more concrete things
closer to engineers every day work: case stories.
Financially 2013 was not a record year for French PLM. Dassault's
revenue ended at $ 2.9 billion, only marginally higher than 2012 ($ 2.8
billion). On the other hand, the Dassault spokespeople I have talked to
explain that the major revenue lift related to 3DEXPERIENCE is expected
to come in couple of years.

Bernard, however, seems a bit more optimistic: "We are seeing many,
many satisfying examples of customers developing first-to-market
experiences with the 3D Experience based on the V6 architecture", he
said in the Dassault quarterly report a couple of weeks ago.
Dassault has decided to make "a concerted effort to share those
implementation stories more broadly". Charles points to examples at
Jaguar Land Rover, LG Electronics and Renault. He also mentions
companies such as Hyundai Heavy Industries (the Offshore &
Engineering division), Bell Helicopter, NIAEP (nuclear power plants in
Russia), Johnson & Johnson and Procter & Gamble.

But clearly Bernard is not referring to all of these as complete
migrations. It's in most cases rather partial implementations or
upgrades to V6 versions; and only a hand full of those "hundreds" can be
regarded as "industry leading".
The Experience Economy and a bright future
"In recent years the digital revolution reshaped much", Bernard says;
you don´t need to extend trends such as virtual reality, the Cloud, Big
Data, mobility and social platforms very far to realize what follows in
its tracks. The younger generation that does not know about the old
ways of working, so things can change quickly. "Just remember Apple's
Iphone." This is one of the reasons of why Dassault sees a bright
future for the 3D Experience concept.
While the future may be bright for the 3DEXPERIENCE platform, it
will probably take a couple of years before the business takes off.
CIMdata's Bilello asserts that Dassault's approach is a step function,
as it was with the introduction of V5 and V4 before it. "Companies can
decide to take the next step or to wait. Since Dassault Systèmes
provides an extended period of overlapping support (e.g., Dassault
Systèmes currently supports V5 and V6 in parallel and will continue to
do so for a number of years to come) companies can safely wait. While
the uptake of the new platform is slow perhaps as compared to others in
the industry, many previous MatrixOne customers are actually already on
the new platform, since the Matrix architecture provides much of the
underlining architecture for the new platform", said Peter Bilello, and
added that the 3DEXPERIENCE Platform is a work in process.
Currently, Dassault is in the process of defining, developing, and
delivering numerous "experiences" in support of its industry support
strategy. This execution is well underway, but it will take some time to
complete. The main question for Dassault Systèmes, its customers, and
potential customers is how long it will take for the required
capabilities to be fully available for the companies who need them.
While waiting for this they can still become 3DExperience customers,
according to Khalambi's definition: "If you're on V6, you're a
3DExperience customer".