Applauds to the European Parliament's call to modernise EU public works projects with BIM technology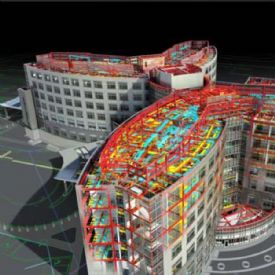 Bildtext:
Leaders from Europe's architecture, engineering and construction industry expressed their support today of the European Parliament's decision to modernize European public procurement rules by recommending the use of electronic tools such as building information electronic modelling, or BIM, for public works contracts and design contests.

BIM enables project teams of architects, engineers, building and infrastructure owners and construction firms to use 3D digital models to collaborate and support building projects throughout their lifecycle - from design and documentation to building and field support. Unlike with traditional 2D drawings, the data in a BIM-led project remains consistent, coordinated, and more accurate across all stakeholders, regardless of how many times the design changes, or who changes it. As a result, building and infrastructure projects are created and completed faster, more economically and sustainably.

The adoption of the directive, officially called the European Union Public Procurement Directive (EUPPD) means that all the 28 European Member States may encourage, specify or mandate the use of BIM for publicly funded construction and building projects in the European Union by 2016. The UK, Netherlands, Denmark, Finland and Norway already require the use of BIM for publicly funded building projects.

Key benefits of adopting BIM for public procurement projects include:

Cost Savings for Taxpayers: Public procurement plays an important role in the overall economic performance of the EU, where public purchasers spend approximately 18% of GDP on supplies, works and services. According to a 2012 report issued by the European Commission, public entities that have already implemented e-procurement solutions report savings of between 5% and 20% of their procurement expenditure. The total size of the EUs procurement market is estimated to be more than 2 trillion Euro, so each 5% saved could result in about 100 billion Euro of savings per year – the equivalent to building more than 150 large-size hospitals.

The UK government estimates that it saved £1.7 billion (2 billion Euro) on major public building projects since 2012 and that 66 per cent of the the UK's Major Project Authority portfolio is now being delivered on time and within budget, a substantial improvement on the 33 per cent seen in 2010. (Source: Construction News).

Economic Boost to the Construction Sector: The European construction sector generates almost 10% of the region's GDP and provides 20 million jobs, mainly in micro and small enterprises. Construction is also a major consumer of intermediate products, such as raw materials, chemicals, electrical and electronic equipment, and related services. Because of its economic importance, the performance of the construction sector can significantly influence the development of the overall European economy.

Higher Impact for Sustainable Design: In addition to the economic benefits observed by introducing technology to construction, existing buildings contribute approximately 40% to greenhouse gases and to energy use by a similar proportion. Tackling the energy performance of existing buildings also falls within the scope of the PPD.

Representatives from various European membership organisations and Companies, as well as Autodesk are available for interviews about today's vote and its implications for the Member States' taxpayers, public sector and AEC industry.

Key Quotes:

Luc BOURDEAU Secretary General ECTP, "ECTP applauds the EU Directive for encouraging innovation and good practice in the European construction sector and for its recognition to consider 'whole-life' costs in relation to public works tenders and design contests. The construction sector has a significant opportunity to improve its performance through the use of innovation and technology: this Directive signals that public procurers can take a positive leadership role for the EU construction sector and it highlights the opportunity to use BIM. ECTP has been supporting the growing use of BIM and monitoring its specification for public works in Member States."

Olle Samuelson, Managing Director, BIM Alliance Sweden: "The directive is an important step in the right direction to increase the use, and awareness, of the BIM process. The implementation of the new directive will hopefully also put more pressure on standardization, which is one of the most important issues for BIM Alliance Sweden for the coming years"

Roland Zelles, vice president of Europe, Middle East and Africa at Autodesk, a leader in 3D design software: "For the first time, the EU is asking their member states to consider the use of technology to modernise and improve the public procurement processes. Today's vote represents a big step forward for the EU and its member states. The wide adoption of BIM across the European AEC industry would not only reduce the cost of publicly funded building projects at home, but also tremendously boost EU industry's global competitiveness in winning international building contracts."