"A design-lead revolution": Autodesk takes a lead in environmentally friendly product realization - TV-report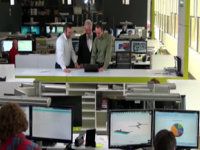 Bildtext:
There are few professions that have as much impact on the environment as engineers and product developers. Through their fundamental product design choices to their selection of materials and the manufacturing processes they use, they can reduce the consumption of resources within the products themselves and through their production and eventual disposal.

In this PLM TV report, Verdi Ogewell asks whether PLM solutions make the job of sustainable design easier. "These are questions that have to do not only with technology, economics and sustainable living conditions, but also with the future of humanity," claims Karl Henrik Robért, professor at Blekinge Institute of Technology, and founder of the environmental organization The Natural Step. He adds that PLM related solutions can play a significant and proactive role.

Autodesks CEO, Carl Bass, agrees and asserts that "a design-lead revolution" is on its way, "Yes, environmental issues have come to the forefront, and most people in most places today would agree that we have to add a new dimension to how we design things."
Click here to watch the video on ENGINEERING.com>>>

Historically design has been this dance in which engineers make
decisions within a constrained environment, "you have a bunch of things
you need to work around, different issues you need to consider", Carl
Bass continued. For a long time this didnt include environmental
concerns, "But now people have recognized that new dimension and
theyve started to act upon it. What starts to matter a lot is the
entire lifecycle."

The software necessary to analyze design decisions for
sustainability can be expensive, especially for the start-ups who are
touting many of the new sustainable ideas. Consequently, Autodesk has
launched a Clean Technology program where start-ups can get software
like Alias, Inventor and PDM solution Vault at no charge, including
"green" modules like Materials Eco Adviser and a third party LCA tool
(Life Cycle Analysis) from Sustainable Minds.

Free software is not an altruistic gesture
Naturally this is not necessarily an altruistic gesture. Ultimately
Autodesk envisions that a growing number of green companies will
become good and profitable customers. But for now they need a "push
over the hill" and Autodesk intends to provide the tools for that push.
"True", says Karsten Hojberg, Clean Tech Business
Manager, Autodesk EMEA, "we are on the cusp of a world population of 9
billion and we all have a responsability to address this epic
challenge. Our contribution is ....to be able to help people with good
ideas really... make a difference".

ENGINEERING.coms TV-team delved deeper into two such interesting
initiatives: An engine that can be driven by solar energy (developed by
Cleanergy) and an electric mini car – the Zbee - developed by Clean
Motion. Both of these examples are members of Autodeks "green tech"
program. In this TV report you will hear from:
Alexander Vestin, Senior VP Business Development, Cleanergy
Göran Folkesson, CEO Clean Motion
How sophisticated are the PLM sustainability solutions?
So, generally, how far away from sustainable design processes are we? It depends on who you ask. Autodesks futurist, Jordan Brandt,
argues that the first steps are the hardest, but in many respects we
are approaching a situation where the virtuous circle can start:
"Today, in 2014, design is almost synonymous with sustainability".

CIMdata anlyst, Peter Bilello, is more restrained,
"We still have a long way to go", he says,"but I agree to the fact that
things have begun to evolve, however, its a matter of scratches on
the surface".

Professor Karl-Henrik Robért leans more in Bilellos direction
claiming that what we need for a start is to set up holistic
navigational principles in terms of sustainablity, "boundry
conditions". He described these with a metaphor: Environmental
friendliness is a matter of economy. If we see nature as capital, the
point is to live on the "interest". As soon as you start consuming the
natural capital, the risk is that the "interest rate" will be reduced
and ultimately there will be nothing left to live on.

However, professor Robért is positive. He believes that with a sharp
conceptual model and with modern IT solutions designers and engineers
can go a long way. How long? Watch this TV-report to find out and be
inspired.